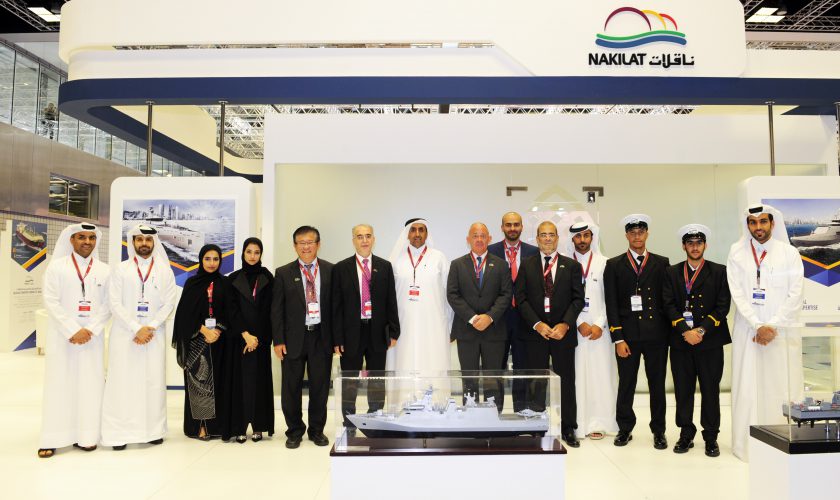 Nakilat showcases maritime and naval expertise at DIMDEX 2018
12 March 2018
Nakilat is showcasing the world-class capabilities and infrastructure of Qatar's premier shipyard at the Doha International Maritime Defence Exhibition and Conference (DIMDEX). Now in its sixth edition, DIMDEX is held under the patronage of His Highness Sheikh Tamim bin Hamad Al-Thani, Emir of the State of Qatar.
The company's various business interests across Qatar offer great commercial and economic opportunities for local businesses. Via its joint-ventures at the world-class Erhama Bin Jaber Al Jalahma Shipyard, Nakilat offers a comprehensive range of ship repair and construction services for a variety of marine and offshore vessels. To date, Nakilat-Keppel Offshore & Marine (N-KOM) has completed repairs for more than 750 marine and offshore vessels, while other joint ventures such as Nakilat Svitzerwijsmuller (NSW) has undertaken more than 12,500 tug jobs for the Port of Ras Laffan this year. In addition, Nakilat Agency Company (NAC) handles an average of 4,000 port calls annually in all Qatari Ports.
Nakilat Damen Shipyards Qatar (NDSQ) offers unparalleled shipbuilding expertise in both the commercial and naval vessels that can reach up to 170 meters.  In addition, NDSQ has completed a total of 63 refits, projects and vessel newbuilds up to date.
The exhibition is an opportunity to exchange military, technical and commercial expertise and capture new military business opportunities for the company. Nakilat's participation in this global event aligns with the company's vision to become a global leader and provider of choice for energy transportation and maritime services. This is a testament to our continuous effort to drive growth within the maritime industry for the state of Qatar, playing a substantial role in supporting the country's drive towards creating a sustainable future, as outlined in the Qatar National Vision 2030.
Chief Executive Officer (CEO) of Nakilat, Eng. Abdullah Fadhalah Al Sulaiti, said: "We are pleased to be participating in DIMDEX, as it is a valuable platform for us to showcase our extensive shipbuilding and ship repair capabilities at the Erhama bin Jaber Al Jalahma Shipyard with superior workmanship. This exhibition also provides an ideal setting for business networking among professionals, enabling fruitful discussions and potential collaborations. In solidarity with Qatar's ambition to diversify its economy and establish itself as a maritime hub in the region, Nakilat offers unparalleled maritime expertise in both the commercial maritime and naval sectors".
Nakilat and its joint ventures are attending to delegates from all around the world at its exhibition booth (H6-120) between 12th to 14th March 2018 at the Qatar National Convention Center (QNCC).