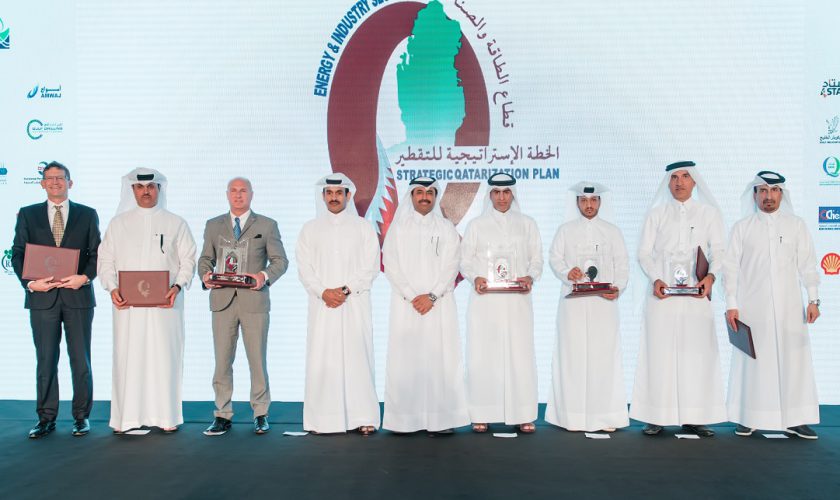 Nakilat receives Qatarization Award for Outstanding Training & Development Initiatives in Qatar's oil & gas industry
06 May 2018
Nakilat has been presented with the Annual Qatarization Award for 'Supporting Training & Development' at the Energy and Industry Sector's 2018 Annual Qatarization Review Meeting held on 30th April 2018. The award presented by Qatar's Minister of Energy & Industry, His Excellency Dr. Mohammed Bin Saleh Al Sada and by Qatar Petroleum President and CEO Eng. Saad Sherida Al-Kaabi, was received by Nakilat Chief Executive Officer Eng. Abdullah Al-Sulaiti.
This is the second consecutive year that Nakilat has won an award for its tremendous efforts in support of Qatar National Vision (QNV) 2030. There were four award categories, namely Support for Training & Development, Support & Liaison with the Education Sector, Supporting Qatarization, and Highest Overall Qatarization Rate.
Nakilat was recognized for its outstanding contribution in Training and Development initiatives for Qatari Nationals, from amongst 35 participating Companies in the local Energy Sector.
As a result of the company's consistent drive for excellence in the quality of training and development initiatives delivered to its workforce, in particular its focus of growing and grooming young Nationals for key positions, Nakilat has managed to achieve an overall Qatarization rate of over 41% to date.
Nakilat's success is attributed to the strategic implementation of the company's comprehensive development programmes, such as the National Developee Programme which allows entry-level Qatari graduates to embark on a two-year development programme that grooms them for senior positions. The company's unique Marine Cadet Program, which sponsors the education and training of talented Qataris to become marine officers and marine engineers, ultimately serving onboard Nakilat extensive fleet of LNG vessels, is another example of its investment in young Qatari talent and commitment to their growth. These impactful programmes are regularly reviewed to ensure
relevance to various business requirements, and integrated with state-of-the-art technology to create an engaging to create an engaging and interactive online learning environment to boost personal and professional development. In addition, Nakilat also partners extensively with local schools, colleges and higher learning institutions to engage students across all levels, promote career opportunities within Nakilat, as well as raise awareness regarding career paths in the maritime and energy sectors.
Nakilat Chief Executive Officer Eng. Abdullah Al-Sulaiti said, "We are proud to be recognized by the industry for our efforts at progressing Qatarization in the country. Nakilat's Qatarization initiatives come as part of our commitment to invest in human capital in attracting, retaining, and developing our workforce with an emphasis on national development, as evident from our mission statement; a mission that is aligned with Qatar's National Vision 2030, which aims for the development of a high-calibre Qatari workforce."