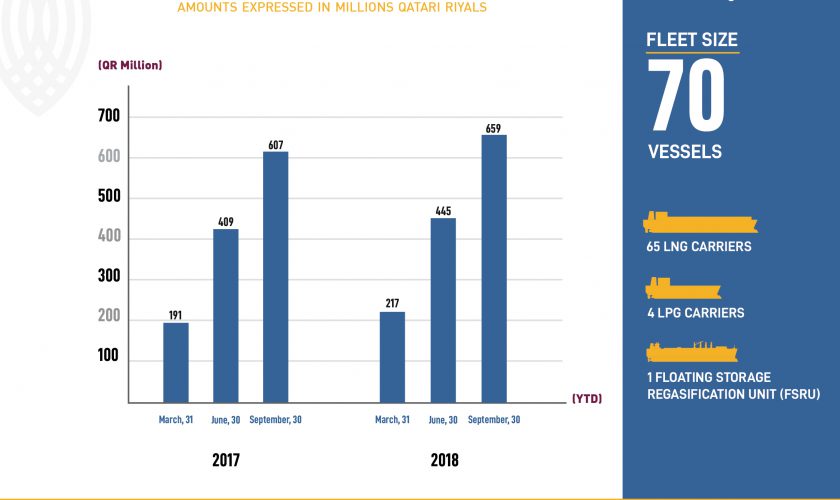 Nakilat announces improved profits in third quarter 2018
28 October 2018 
Nakilat concluded its financial results for the nine-month period ended 30 September 2018, with improved net profit of QR 659 million compared to QR 607 million of the same period last year in 2017, an increase of 8.5%.
Nakilat's stronger performance is a result of the company's successful expansion, which is attributed to its strategic long-term plan to diversify and seek business opportunities with minimal risk, as well as through effective cost optimisation initiatives across its integrated operations. This has been achieved through the acquisition of two additional jointly-owned liquefied natural gas (LNG) carriers and a major stake in the first floating storage regasification unit (FSRU). The expansion of Nakilat's fleet opens a new horizon and business avenue for the company to sustain its long-term growth and development strategies, which in turn will further maximize value and returns for its shareholders. Nakilat joint venture companies have also performed well, supported by the encouraging demand for ship repair and retrofits and offshore fabrication at the world-class Erhama bin Jaber Al Jalahma shipyard in the last quarter.
The Board of Directors commended Nakilat's prudent operational management, which has enabled the company to be resilient in the global energy transportation market. This is aligned with Qatar's vision and efforts towards developing the LNG market, as it is the energy of the future. Nakilat's solid performance is a result of the company's effective operations and determination to ensure long-term sustainability, which has enabled Nakilat to maintain a steady cashflow and generate greater returns for its shareholders.
Nakilat Chief Executive Officer (CEO) Eng. Abdullah Fadhalah Al Sulaiti said, "Nakilat's improved financial performance bears testament to the company's ongoing emphasis on enhancing efficiency, increasing productivity and pursuing growth strategies, without compromising safety and quality across all our integrated operations".
Al-Sulaiti added that the company is always on the lookout for opportunities to diversify its business and expand its portfolio, with the aim to widen international outreach and secure industry-leading position in the dynamic and competitive LNG market, which will strengthen Qatar's leading position in the global LNG transportation market.
Al-Sulaiti concluded: "Nakilat will continue to play our significant role in steering our efforts toward enhancing capability and resiliency to strengthen the country's shipping and maritime industry, elevating the company to greater heights in alignment with our vision to be a global leader and provider of choice for energy transportation and maritime services".