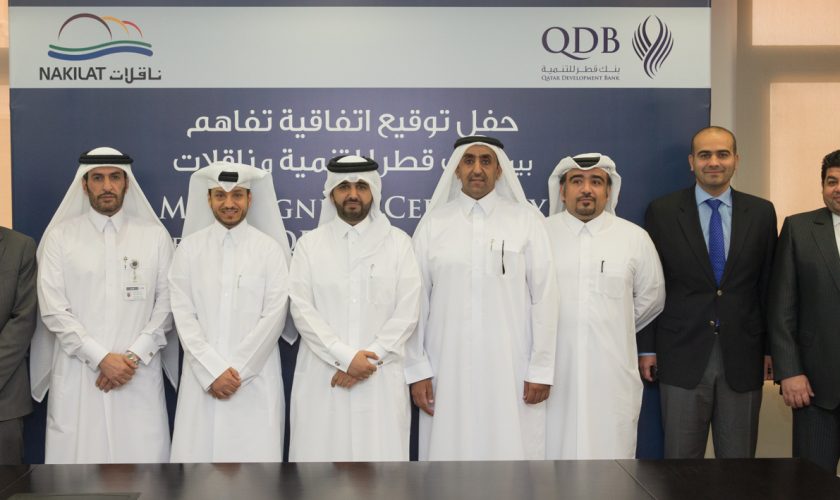 Qatar Development Bank and Nakilat sign MoU to Help SMEs
12 July 2015
Nakilat has signed a Memorandum of Understanding (MoU) with government-owned financial institution Qatar Development Bank (QDB) agreeing to collaborate in areas including marine export credit insurance and financing. Nakilat is the transport wing of Qatar's Liquefied Natural Gas (LNG) industry, and has the world's largest fleet of LNG ships. QDB's Tasdeer programme offers financial solutions and guidance to Qatari businesses that export internationally.
The signing ceremony took place on 7th July at QDB's head office in Doha. Abdullah Al Sulaiti, Nakilat Managing Director, signed on behalf of Nakilat and its affiliates. Abdulaziz Nasser Al Khalifa, CEO QDB, signed on behalf of QDB.
Speaking on behalf of Nakilat, Abdullah said: "In signing this agreement, we acknowledge our position as the lynchpin in the State of Qatar's marine industry, and we reaffirm our commitment to the growth and development of the sector. By working together, we will provide solutions and services in the maritime industry, which consequently aids in strengthening the role of the Erhama bin Jaber Al Jalahma shipyard. As a result, we will be able to offer competitive products for the maritime industry. In addition, we have future projects that will in turn contribute to the achievement of Qatar National Vision 2030."
Nakilat and its affiliates Nakilat Damen Shipyards Qatar and Nakilat Keppel Offshore and Marine (N-KOM) have a demand for marine export credit insurance, financing and foreign buyers' and importers financing, services that can be provided by QDB. QDB and Nakilat agreed to jointly support local Small and Medium Enterprises (SMEs) by encouraging entrepreneurs to set up new Qatari companies that specialise in marine and shipyard-related industries.
Abdulaziz Bin Nasser Al Khalifa, CEO of QDB said: "QDB is a devoted advocate for SMEs in Qatar, through supporting organisations and national institutions program to help SMEs, QDB managed to secure success that reflected the experience we have and provided a number of opportunities to SMEs to be part of a vibrant and diversified economy. Our signing with Nakilat comes in line with our strategy to encourage entrepreneurs to enter the field of maritime industry, and provide them with the services they need".
The signing between Nakilat and QDB is all about opening the doors for local SMEs to supply contracts for Nakilat and its affiliate businesses in Qatar. QDB agreed to introduce opportunities for SMEs and to provide advice and guidance and financing for entrepreneurs to make them certified providers in the maritime industry.