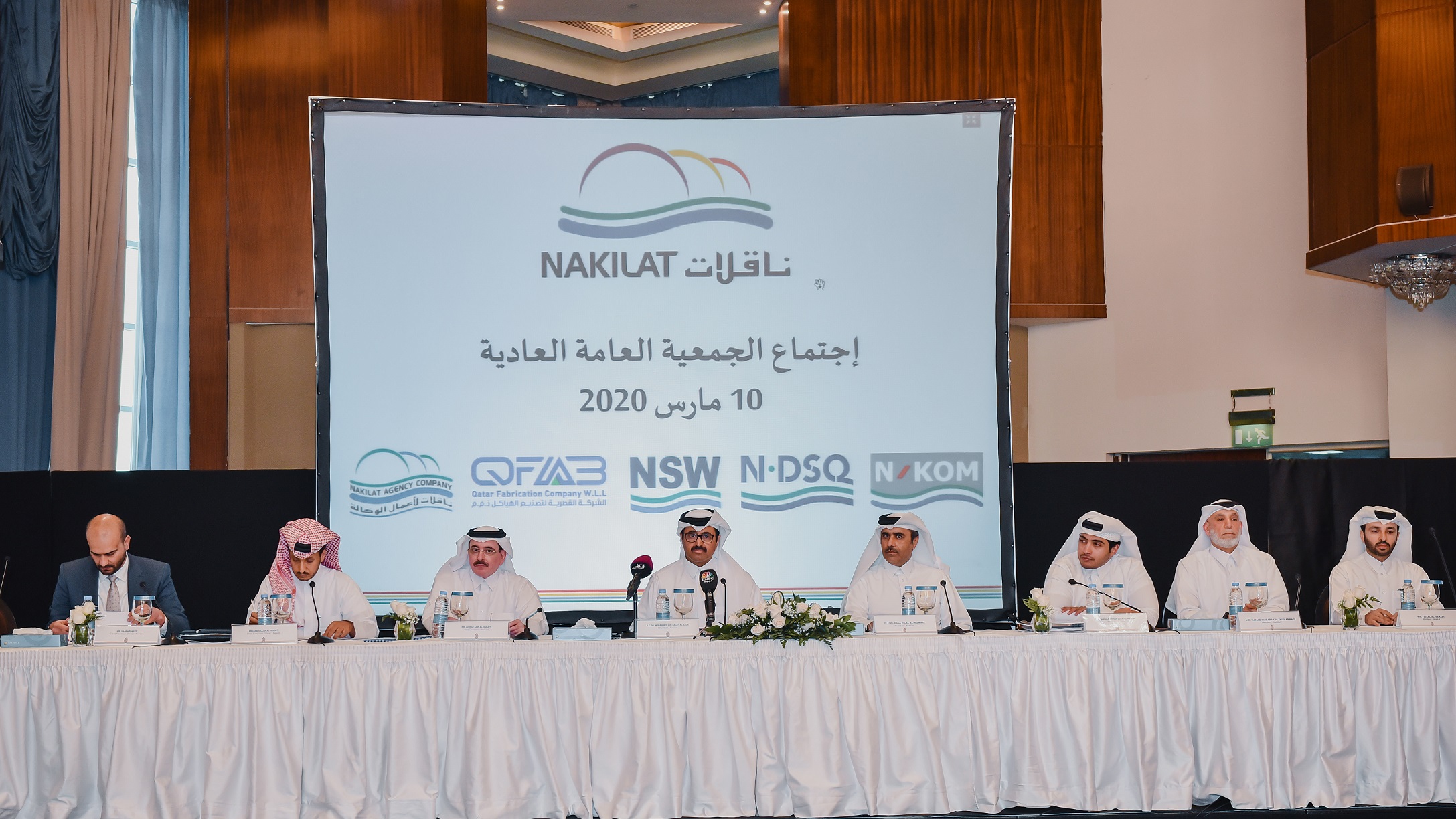 Nakilat holds Annual General Meeting for Shareholders, all items on the Agenda were ratified
10 March 2020
Nakilat held its Annual General Meeting (AGM) today, chaired by His Excellency Dr. Mohammed Bin Saleh Al Sada, the Chairman of Nakilat's Board of Directors.  During the AGM, the Group reported a consolidated net profit of QR 1,003 million (1 billion and 3 million Qatari Riyals) in 2019, an increase of 12.4%. All items on the agenda were also ratified during the AGM. During the meeting, the Chairman of Nakilat's Board of Directors presented an overview of the company's activities and financial results for 2019, along with an outlook for 2020.
The Chairman highlighted that in 2019, Nakilat continued to push the boundaries and successfully implemented several long-term growth strategies by strengthening its international presence and diversifying its fleet towards maintaining global leadership in LNG transportation. The company followed through its expansion plans with four newbuild LNG carriers added to its fleet, in preparation for additional capacity to meet the growing international demand for clean energy. Additionally, Nakilat acquired the full ownership of four Q-Flex LNG carriers as part of its fleet consolidation, further demonstrating its flexibility to capitalize on profitable investment opportunities. He also noted the company's commitment to operational excellence, as evident from the delivery of all cargos without any interruptions worldwide, despite the challenges brought about by the ongoing geopolitical situation as well as the dynamics of the global maritime industry.
In addition, the Chairman highlighted the establishment of a new joint-venture, Qatar Fabrication Company (QFAB), that comes in alignment with Qatar's ambition to enhance the resilience of the energy sector's supply chain and our own business diversification strategy. Offering a comprehensive suite of offshore and onshore fabrication services, QFAB not only complements Nakilat's maritime portfolio but also aims to support the increasing demand for the construction of offshore and onshore structures in Qatar, and by extension, the country's efforts at localization.  The company's other joint venture operations at the world-class Erhama Bin Jaber Al Jalahma Shipyard continued to strengthen Nakilat's value proposition, with its ship repair, offshore fabrication, towage and other maritime services contributing towards Qatar's development as a strategic shipping and maritime hub. Several milestones have been achieved recently, which includes the successful delivery of the largest topside fabricated in Qatar at the Erhama bin Jaber Al-Jalahma Shipyard for Qatar Petroleum's Bul Hanine re-development project, in addition to the major fabrication of additional living quarters for Qatargas' North Field Bravo offshore complex.
Nakilat Chief Executive Officer Eng. Abdullah Fadhalah Al Sulaiti said: "Nakilat's record highest financial performance bears testament to our people's drive and passion to elevate the company to greater heights. It is a solid reflection of the company's intensified efforts at implementing business diversification and resource optimization strategies, and pursuit of sustainable cost optimization initiatives to achieve greater cost efficiency and synergy across the organization. The company's strong results reflected positively on the performance of the share price during the previous period, with substantial increase of the share price for the year 2019. We continued to maintain the highest standards of corporate governance, occupational health and safety regulations, risk management and business continuity preparedness to safeguard investor's confidence in the company. The future holds much promise for Nakilat, and we are confident in continuing to maximize value for our shareholders while bringing the company closer towards achieving our vision to be a global leader and provider of choice for energy transportation and maritime services."
Nakilat's Board of Directors expressed their appreciation to all relevant authorities, including Qatar Petroleum (QP) for its ongoing support of Nakilat's activities, to QP Industrial Cities for its co-operation with the Erhama Bin Jaber Al Jalahma Shipyard. and our strategic partner Qatargas in playing a significant role to ensure our robust financial performance. The Board also extended their appreciation to all of Nakilat's partners, shareholders, management and employees for their continued dedication and support in 2019.