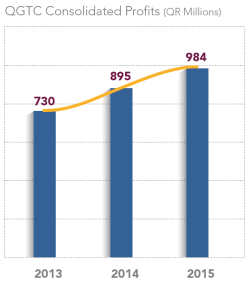 Nakilat achieves QR 984 Million profit for the year 2015 with an increase of 10%
20 February 2016
Nakilat, the shipping arm of Qatar's liquefied natural gas (LNG) sector announced its financial results for the year ended 31 December 2015. The company recorded an underlying net profit of QR 984 million compared to QR 895 million achieved for the year 2014, which is 10% higher than the previous year.
Nakilat's operations have achieved a higher profitability level by growing business streams through the addition of three new LNG vessels to Nakilat's LNG Fleet during 2015, full operation of vessels acquired during 2014, optimization of operating expenses and leveraging lower finance costs.
In this regard, the Board recommended distributing a cash dividend to the shareholders equal to 12.5% of the nominal value of its capital, which is equivalent to QR 1.25 per share. It was also decided to invite the ordinary general assembly to convene on March 7, 2016.
Nakilat's Board of Directors commended the company's strong financial results, which clearly reflect the strength and stability of the company's commercial position. This improvement was primarily driven by the company's tactical strategy on capitalizing profitable business consolidations and risk assessment management which reinforces Nakilat's position as a global leader in the LNG transporting industry.
The Board of Directors stated that Nakilat is in a favorable position due to the stable cash flows and highly rated sponsors incorporated with long-term and positive contract structures. In like manner, Rating Agencies had noted during rating affirmations processes last year, the company's success was attributed to its resilience to market volatility and its experience in ship management with a consistent and reliable record for operating LNG ships.
Even in the midst of the unstable oil and gas sector, Nakilat has continually performed well whilst being minimally impacted over the oil price fluctuations. The company's strong bank relationships evident by the financing obtained from domestic and regional banks and from capital markets at low rates in conjunction with its strong link to the State of Qatar as the country's premier marine company are key elements to Nakilat's strong financial performance.
The Board has affirmed Nakilat's commitment to pursue aggressive developments and growth strategies in the long term, in order to achieve strong returns to its shareholders.
Nakilat will exploit future opportunities to acquire new business opportunities, serving the international marine sector, and to increase the utilization rate for the shipyard facilities at Erhama Bin Jaber Al Jalahma Shipyard.
An indication of these developments was the signed Memorandum of Understanding (MoU) with Qatar Development Bank (QDB) agreeing to collaborate in areas including marine export, credit insurance and financing. This ultimately,
assists small to medium enterprises in entering the maritime industry by working together in order to provide services for Nakilat.
In addition to its shipping business, the company is also a key player in sustainability. Nakilat's continuous attention to SHE elements and quality systems was demonstrated by the seamless transfer of four LNG and four LPG vessels into ship management under Nakilat Shipping Qatar Limited (NSQL), a wholly-owned subsidiary of Nakilat. This was the result of a detailed and in-depth management of change that was successfully achieved.
In conclusion, the Board of Directors expressed its acknowledgment to everyone that was involved in contributing to this achievement including Nakilat's executive management and its employees.