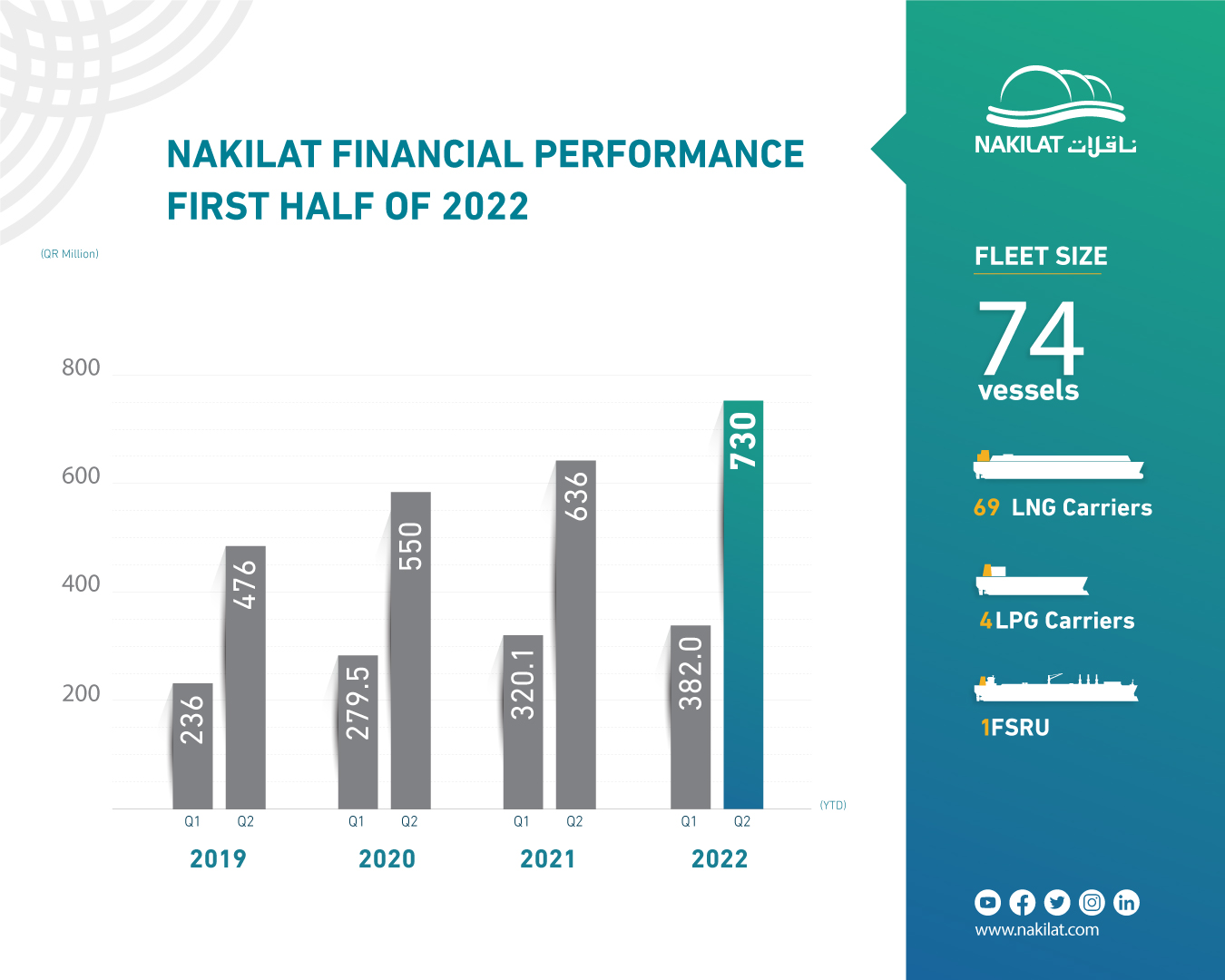 Nakilat achieves QAR 730 million net profit for the first half of 2022
Doha, Qatar – 08 August 2022
Nakilat, the world's largest Liquefied Natural Gas (LNG) fleet owner, achieved a net profit of QAR 730 million for the first half of the year ended 30 June 2022, compared to QAR 636 million during the same period in 2021, an increase of 14.9%.
As a global leader and provider of choice for energy transportation and maritime services, Nakilat remains steadfastly committed to operational excellence, ensuring an uninterrupted, safe, reliable and efficient delivery of clean energy to the world, through its maritime services. The company also continues to strengthen its value proposition by offering ship repair, industrial and offshore fabrication, towage, and other maritime services.
Here are the key financial highlights from the first half of 2022:
Net profit of QAR 730 million, increase by 14.9%
Charter of two new-build carriers recently added to the company's fleet
Eng. Abdullah Al-Sulaiti, Chief Executive Officer, Nakilat, said: "We are pleased with Nakilat's solid financial performance for the first half of 2022, reflecting the company's superior operational excellence in energy transportation and maritime services. With a greater global demand for maritime shipping, Nakilat remains determined to meet customer needs and find both urgent and long-term diversified, secure and reliable energy transportation solutions, providing value to our customer base and asset portfolio growth and sustainable returns for our shareholders."
As a testament to the company's excellence in safety, sustainability and business continuity, Nakilat achieved the British Safety Council's five-star rating for the 5th consecutive year after completing the Council's comprehensive audit scheme for safety, occupational health, and environmental management.
Believing that our people are the main pillar of our successes, Nakilat places a special focus on further developing the professional competencies of our workforce, including national talents. In recognition of the company's prudent efforts in this area, Nakilat was awarded the 2021 Qatarization Award at the energy sector for supporting staff learning and professional development.
Nakilat will host an investor relations conference call on its financial results for the first half of 2022. The conference call will be held on Tuesday, 9 August 2022, at 13:30 (Doha Time), and the presentation will be made available on the company's website prior to the call. For further information on Nakilat's conference call dial-in details, please visit www.nakilat.com
Since its establishment in 2004, Nakilat has evolved into a global leader and provider of choice for energy transportation and maritime services. With the world's largest LNG fleet of 69 LNG carriers, Nakilat also manages and operates one floating storage regasification unit (FSRU), and four very large LPG carriers (VLGCs). In addition, the company provides comprehensive ship repair and offshore fabrication services, shipping agency services, as well as towage and other marine support services through its JVs: Nakilat-Keppel Offshore & Marine (N-KOM), Qatar Fabrication Company (QFAB), Nakilat SvitzerWisjmuller (NSW), and Nakilat Agency Company Ltd. (NAC).