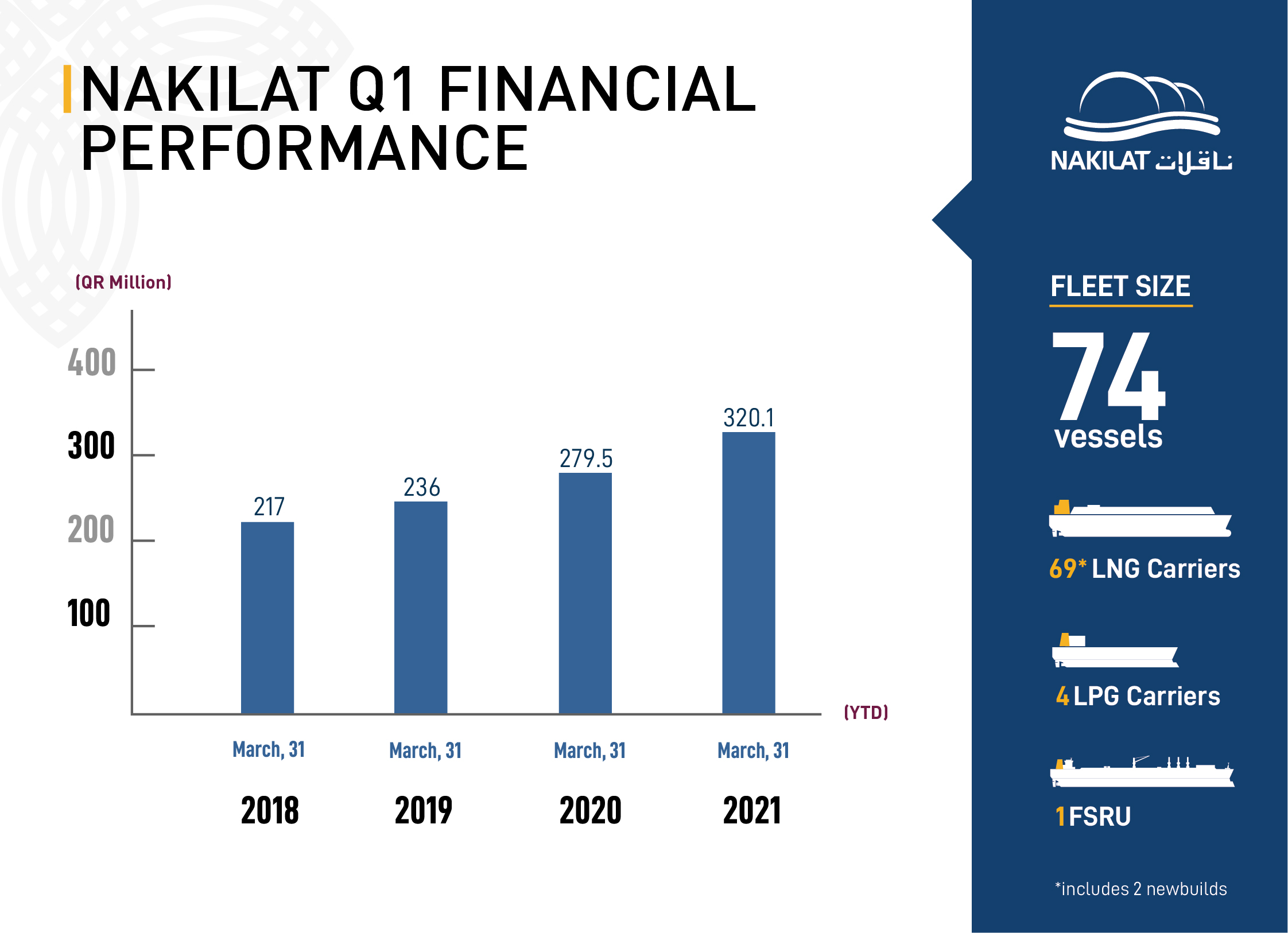 Nakilat achieves QAR 320.1 million profit for the first quarter of 2021, an 14.5% increase
18 April 2021
Nakilat announced its financial results for the first quarter ended March 31, 2021 with a net profit of QR 320.1 million compared to QR 279.5 million during the same period in 2020, with an increase of 14.5%.
Nakilat remained committed in achieving its vision and continued to deliver robust financial performance and sustained operational excellence, despite the challenges brought about by the COVID-19 pandemic. The company maintained its excellent track record of delivering clean energy to worldwide destinations without any interruptions, upholding its commitment to provide safe, reliable, and efficient shipping and maritime services. Additionally, the Nakilat group continues to strengthen its value proposition, with the ship repair, offshore fabrication, towage and other maritime services remaining full operational and contributing towards the company's vision to be a global leader and provider of choice for energy transportation and maritime services, as well as Qatar's 2030 vision.
Here are the key financial highlights from the first quarter of 2021:
Net profit of QAR 320.1 million, increase by 14.5%
Operating Expenses decreased by 4.1%
General and administrative expenses decreased by 28.1%
With solid business continuity plans and robust infrastructures in place, Nakilat has been able to swiftly adapt to the evolving situation and remain focused on creating value for its shareholders and customers. Nakilat's Board of Directors commended the company's continued excellence in health, safety and environmental management, which was recently recognized and awarded the 'Sword of Honour' by the British Safety Council for the third consecutive year. The 'Sword of Honour' is a prestigious international award for organisations that have reached the pinnacle of excellence in managing the company's health, safety and environmental risks. In addition, the company was recently certified for ISO 22301:2019 (Business Continuity Management Systems), demonstrating its proactive approach in ensuring the maturity of its business continuity management systems across all operations.
Nakilat's Board of Directors expressed their appreciation to all relevant authorities, including Qatar Petroleum (QP) for its ongoing support of Nakilat's activities, to QP Industrial Cities for its co-operation with the Erhama Bin Jaber Al Jalahma Shipyard, and our strategic partner Qatargas, in playing a significant role to ensure our robust financial performance.
In-line with Nakilat's commitment on providing the best practices in investor relations and its strategy to engage shareholders and investors, the company will hold an investor relations conference call to discuss the company's financial results for the period ending on 31/03/2021 on 19 April 2021 at 13:30 (Doha Time). The conference call presentation will be published on the company's website before the conference call. For further information on Nakilat's conference call dial-in details, you can visit the company's URL: (www.nakilat.com)