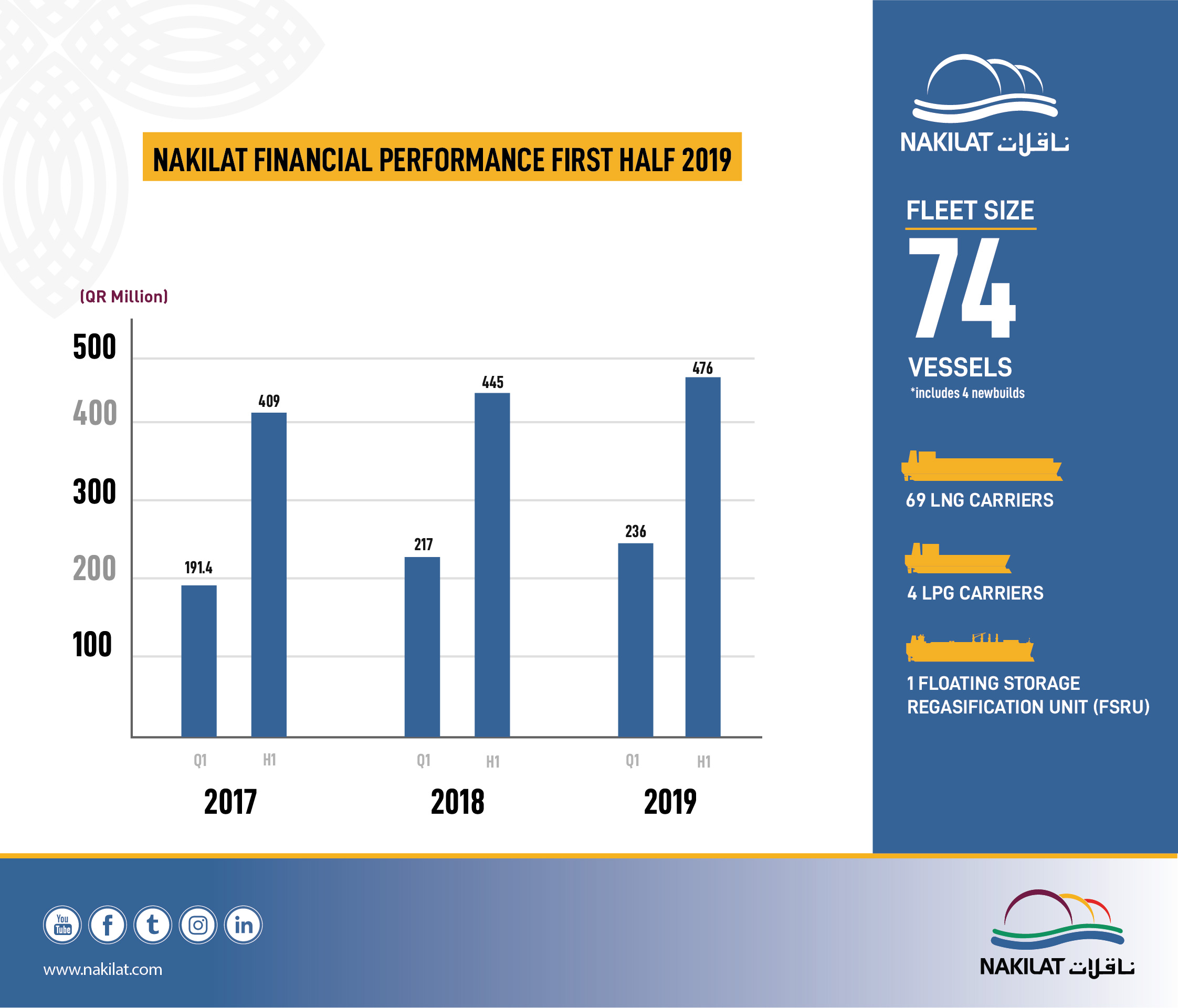 Nakilat achieves 7% increased profits for the first half of 2019
10 July 2019
Nakilat announced its financial results for the first half of the year ended 30 June 2019, with the company achieving a net profit of QR 476 million compared to QR 445 million during the same period in 2018, an increase of 7%.
Nakilat's strong financial performance is driven by long-term strategic plans towards achieving the company's goals, championed by the Board of Directors. The acquisition of two additional Liquefied Natural Gas (LNG) carriers and one Floating Storage Regasification Unit (FSRU) in 2018 is among the main attributes to the positive financial results, as well as the increased volume of projects at Nakilat's Erhama Bin Jaber Al Jalahma Shipyard facility which recently commemorated its 200th LNG carrier repair.
Nakilat continues to expand its international portfolio through the acquisition of four additional LNG carriers earlier this year. With the 4 new vessels that will be managed and marketed by Nakilat, this not only affirms our global leadership in energy transportation but also bears testament to our vessel management and marketing capabilities as the world's largest LNG fleet. Nakilat's steady growth highlights our robust financial performance and strategic planning, which comes as part of our efforts to maximize returns for our shareholders.
In addition, Nakilat has achieved positive results across its operations through rationalization of operational expenses which in turn resulted in a strong first half of the year, leading to a solid stock price performance for year to date 2019.
Commenting on the company's excellent results, Nakilat Chief Executive Officer Eng. Abdullah Al Sulaiti said: "Nakilat's commitment to deliver value for our shareholders and maintain our leadership in energy transportation have been the main driving forces behind the solid performance achieved today. While we remain focused on achieving our strategic goals, we are also continually assessing the market and our current investments in relation to profitability to address any risk involved for the company and our shareholders. This enables us to prudently navigate anticipated or unexpected challenges, in an effort to steer the company forward as a global leader and provider of choice for energy transportation and maritime services."
Al-Sulaiti added, "The huge demand for cleaner energy supports LNG trade growth, hence increases demand for LNG shipping industry. Nakilat strives to meet the growing energy transportation needs by capitalizing on the potential investment opportunity in promising strategic projects."
Download Nakilat's Half Year 2019 Presentation here