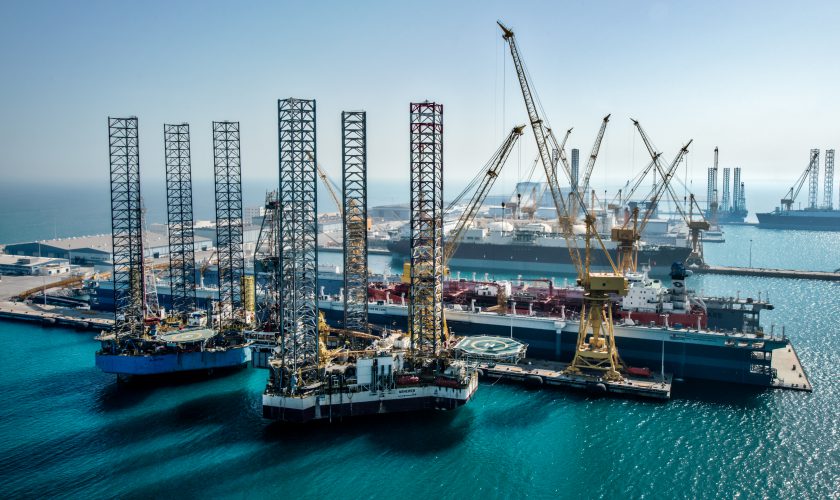 N-KOM Holds Steel-cutting Ceremony for The First Ever Offshore Living Quarters Fabricated in Qatar
9 January 2019
Nakilat-Keppel Offshore & Marine (N-KOM) successfully held a steel cutting ceremony for the first offshore living quarters to be fabricated in Qatar, at the world-class Erhama bin Jaber Al Jalahma Shipyard. The project scope was awarded to N-KOM by Rosetti Marino, a leading Italian company providing engineering, procurement and construction (EPC) services to the energy industry worldwide.
Rossetti Marino was awarded the EPCIC (Engineering, Procurement, Construction, Installation and Commissioning) contract for the fabrication of a brand-new offshore living quarters and refurbishment of an existing platform with modern facilities for a local offshore complex in the North Field.
Chief Executive Officer of Nakilat, Eng. Abdullah Al Sulaiti, said: "This ceremony marks a milestone not only for N-KOM but also for Qatar, as this is the first such offshore fabrication to be wholly-constructed locally. With N-KOM's solid experience in handling offshore fabrication projects, and Rosetti Marino's expertise in the field of EPC services, we are confident in delivering the project in a safe, timely and efficient manner, towards supporting the growth of Qatar's oil and gas industry."
An estimated 4,700 metric tonnes (MT) of structures will be fabricated by N-KOM as part of the project, comprising of jacket and piles, as well as a topside for the offshore platform. The new offshore platform is intended to accommodate an additional 90 persons on board and will be linked via six bridges to the existing complex, thereby increasing the total accommodation capacity of the platform to 152 persons. Expected to be completed by mid-2020, the additional accommodation capacity will enable the offshore platform to meet the demands of increased operational requirements.
CEO of Rosetti Marino Group Oscar Guerra said: "We strive to add value towards the creation of a vibrant oil and gas industry for Qatar, and to generate greater opportunities for valuable partnerships with local players of the oil and gas sector as outlined in Qatar's National Vision 2030. This strategic co-operation between us and N-KOM facilitates the transfer of top-tier international engineering expertise, cutting-edge technologies and operational know-how in providing the highest quality standards and services towards the successful delivery of this project. As such, we can not only demonstrate the Rosetti Group's core values and capabilities, but also have the opportunity to significantly contribute towards the development of the country's oil and gas sector."
N-KOM is well equipped to undertake a variety of offshore fabrication projects, with an extensive fabrication area of 190,000 square meters and more than 300 qualified and skilled in-house professionals. To date, N-KOM has completed more than 850 marine and offshore projects at its facility in Ras Laffan Industrial City. The facility is certified by the American Petroleum Institute (API) for ISO 9001, ISO 14001, OHSAS 18001 and API Spec. Q1 (9th edition), as well as by the American Society of Mechanical Engineers (ASME) for 'U, U2, PP, S' stamps and the National Board R stamp. These accreditations are a testament to the stringent international safety and quality standards to which the shipyard adheres.
Aside from its ship repair and conversion business, N-KOM has built up a proven track record for offshore fabrication projects, with clients such as Qatar Petroleum, QatarGas, Woqod, OXY, Technip, Gulf Drilling International, Qatar Primary Materials Company and Maersk Oil (Qatar) among others. Adding value to Nakilat's integrated business, N-KOM continues to be a strategic addition toward elevating Qatar's energy, shipping and maritime industry to greater heights. This in turn further strengthens Nakilat's vision to be a global leader and provider for energy transportation and maritime services.