CEO Message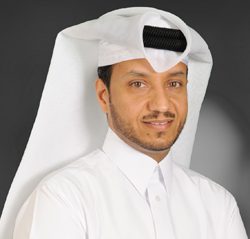 As the world's demand for clean energy increases, so does Nakilat's role in meeting the marine transport demand. At no point in history has the company's importance to the global supply chain been greater.
As a response to the increased global demand for clean energy shipping, we continue to diversify our portfolio and international presence.
Despite the challenges, the past year has served as a clear indicator of Nakilat's superior track record and operational excellence in energy transportation and maritime services, with a bountiful profit of QAR 1.44 billion for 2022, a significant increase of 6.3% compared to the previous year at QAR 1.35 billion. This is a direct result of our collective efforts and commitment to deliver value to our customers and stakeholders.
At the core of our company's operations are transparency and sustainability. Nakilat and its joint ventures are fully committed to Qatar's sustainable development and future, as outlined in Qatar National Vision 2030 and in line with the United Nations Sustainable Development Goals (UN SDGs). In 2021, we published our very first 2020 ESG report which details our company's focus on sustainability in indispensable areas, such as health and safety, climate change, and human capital management, including diversity, equity and inclusion, as well as governance practices. The publication of our consequent 2021 ESG Report outlines our transparent journey to deliver ESG excellence and a positive impact on our workforce, community and planet.
We were once again awarded the prestigious 'Sword of Honour' by the British Safety Council for the fifth consecutive year. Given to companies that demonstrate excellence in the management of occupational health, safety and environment, this award reflects our organizational commitment in upholding excellence in health, safety and environmental management.
We have had many more reasons to celebrate. Nakilat was recognized both locally and internationally on multiple fronts. Alongside fellow energy sector stakeholders, Nakilat was awarded the Annual Qatarization Crystal Award for its support of Learning and Development. Our commitment to customer centricity and our excellent business performance was further recognized by Forbes Middle East in its 2022 'Top 100 Companies' list, featuring the biggest and most profitable regional companies, with Nakilat coming in the top 7 position in Qatar and 65th in the Middle East. Among this list were 16 Qatari firms, reflecting the resilience of the Qatari economy and its important place on the global stage.
This year, numerous key developments have taken place. Earlier in May we participated in the 28th World Gas Conference (WGC2022) in Daegu, Korea. Considered the world's largest gas event, the WGC brought together over 12,000 industry experts from more than 90 countries.
Qatar has marked many important milestones over the past few years, including most recent, the successful hosting of the FIFA World Cup Qatar 2022™. As an organization, I take pride in saying that we do our part in contributing to the country's multifaceted success on the local and global stage. Nakilat and Qatar's role in the global economy is ever-increasing. We will continue our mission of safely, reliability and efficiently delivering clean energy to the world and steadfastly establishing Nakilat as a global leader in energy transportation and maritime services.
Eng. Abdullah Al-Sulaiti
Chief Executive Officer
EXPLORE THE ANNUAL REPORT
Have a Question?
Contact our Investor Relations
team